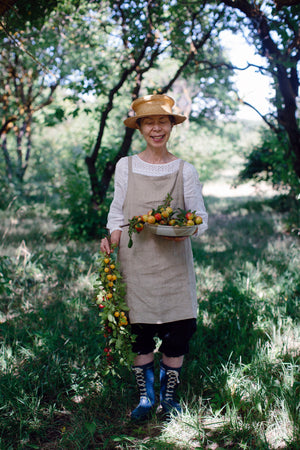 Join our newsletter for stories, recipes and new products.
Follow Us
0
In collaboration with local Seattle maker, Erica Hanson of EH Works, The Apron is something you can wear day in and day out, regardless of task. Inspired by the memory of founder, Ayako, in her distinctive linen smock apron harvesting flowers, frying dumplings, cooking jam, Ayako & Family owner, Alessandra, conceptualized The Apron as a continuation of these rituals, while modernizing the form so that it can move with you throughout your day, offering you ease, function, and beauty at once.
The apron is made from a medium weight indigo linen, with a soft yet durable cotton webbing around the neck and waist. The skirt is designed in two split panels, in the style of a workshop apron, so you can sit, crouch, kneel, and move freely while working without any fabric excess getting in your way. On the front of the apron, we chose a clean and minimal design with one deep pocket on the right hip for your tools, a pen, or notepad, and one towel loop on the left hip for polishing your snacking fruit. Logo embroidery on the bib marks where the heart is when we work, and length of the neck webbing adjustable by a simple loosening of the loop and knot.
The Apron is unisex and made to fit all. 
100% Linen
36" in Length | 30" Waist
Designed in Seattle, WA
Sewn in Seattle, WA