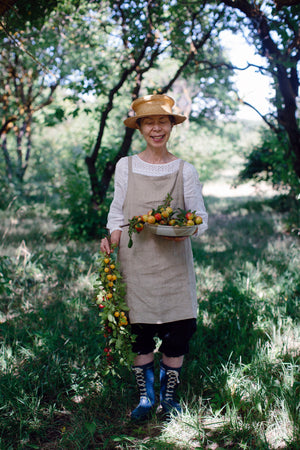 Join our newsletter for stories, recipes and new products.
Follow Us
0
I am proud to send into the ether another piece of Ayako & Family legacy - a print illustrated and conceptualized by artist, employee, and dear friend, Way Sum, celebrating our 12th season in business. 
Way has breathed creativity and their own queer Asian diasporic identity into all of their roles within Ayako & family, and they continue to shape this business as it slowly iterates with time. They are, in their own imagination, seeing this through now, even independent of me.
In this portrait are gathered mementos of the past, present, future in coexistence: my my grandmother's favorite reading chair, my mother, Ayako's, straw hat, our farmer, Taki san's barn doors, the first bicycle I built with friends, a fruit picker's ladder reaching for the sky, lanterns and our very own noren, hinting, not subtly, to a dream — a home for this, a space for you and me. Like many, we started out as one, and now we are overthrowing the singularity of ownership by ushering in this next generation of Ayako & Family visionaries.
The art was printed using offset with a cerulean blue ink on a 100# archival paper to mimic the rich texture and storytelling of block print and will be editioned. There are exactly 100 first edition prints, signed and numbered by the artist. 
18" x 24" print