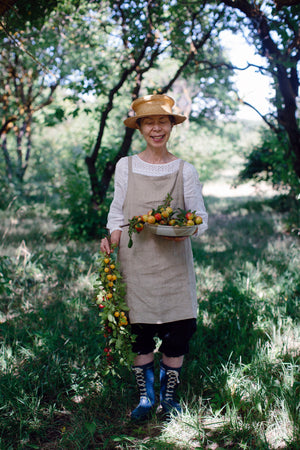 Join our newsletter for stories, recipes and new products.
Follow Us
0
Cocktail syrups are a versatile and low-dive leap into imbibe culture, and that doesn't exclude those who prefer sparkling water and citrus, tea or coffee, over alcoholic spirits. We produce these syrups in the style of a slow reduction, with the same magical Mair Farm-Taki fruit, getting to the essence of things. The syrups then, unlike our jams, are double strained through a fine chinois, for smooth, effortless mixing and pouring. 
The apricot syrup harkens the most mature apricot on the branch, deep, syrupy, floral, with the orange blossom, tea like aromas of bergamot, with the hit of acid like biting through the skin of any fresh stone fruit.
Our apricot syrup pairs well with all spirits, with a preference for the darker ones. Think rum punches, whiskey sours, an old fashioned. However, tequila never said "no" to it, and is a wonderful addition to a tall glass of soda water over ice with a squeeze of lime.
12 oz.
Recipe: The Toddy
In the Cold and Gray Seattle winters, one can be forgiven for imaging a trip to warmer locales. This toddy variation melds tropical flavors of lime, ginger, cinnamon and clove together with the complexity and warmth of our apricot syrup. A winter warmer like this is meant to be shared so be sure to spread some holiday cheer with a few of your favorite humans. 
6oz aged r(h)um
1 oz Ayako & Family Apricot syrup
1 oz lime juice
4 thinly sliced lime wheels
fresh ginger
cinnamon sticks
whole cloves


Using a spoon, peel the ginger root. Grate the ginger with a microplane or fine grater. Squeeze enough ginger to measure 1oz of juice.
Heat water as if for tea. An electric kettle works very well.
Combine the rum, apricot syrup, lime and ginger juices, stirring well. Split the mixture evenly between four mugs, about 2¼ oz each.
Press a few whole cloves through each lime wheel to form rafts.
Fill the mugs with hot water. Add a cinnamon stick and a lime rafts to each.